Chapter 28

Bennet grumbled under his breath and raked his hair for the hundredth time. It was always a risk, taking on a man with a bothersome past. Sometimes it worked in one's favor and other times— He cleared his throat and shook his head. Why would this have to be one of those times when both his neighbors and his daughter were involved? Taking a risk was one thing, but others being harmed by that risk was entirely another.
He tipped his chair back and stared at the ceiling. Lady Catherine had warned him just as Lizzy had and he was too bloody stubborn to take heed. Lady Ellen would be scolding him now if she could see. And she would be right. He puffed a breath through his cheeks. Impatience never served him well.
Now that Wickham was gone, he could begin again – and this time, listen to his advisors. Alston was a sound estate. If they could just make it through this year, it would become a legacy he could pass to his heir. He rubbed his temples.
"Papa! Papa!" Francis caught himself in the doorway of the study, panting.
Philip skidded into him, knocking them both pell-mell across the carpet into a heap like a pile of puppies.
Philip propped himself up on his elbows. "Mr. Darcy is bringing Lizzy to the house on his horse!"
"They are riding together!" Francis climbed out from under his brother. "That is not proper, is it father?"
"Will Lizzy be in trouble?" Phillip bounced to his feet.
"What's this? Stuff and nonsense—" Bennet pushed himself to his feet.
"It is true." George poked his head in. "We saw them."
David nodded energetically. "She is wearing Papa's coat but I do not understand why. It is not cold."
Francis ran to the window and pointed. "Her hair is all rumbled and her bonnet is missing."
Bennet's amusement vanished. Icy knots tied his guts so tightly he could not breathe, much less speak. Two wives and a daughter had already been torn from him. Not again—surely not again. He sprinted across the room and leapt over the boys and into the hall. By the time he was at the front door, Piper had arrived and ran at his side.
Darcy's horse stopped just as they reached the bottom of the front steps. Lizzy perched awkwardly in front of Darcy, in a posture anything but proper – in that, the boys were right. Hang propriety, something was profoundly wrong.
"Lizzy!" Bennet reached for her.
"I am well, Papa." She slid off into his arms, clutching Darcy's coat tightly around her.
He cupped her cheek in his palm, his heart crashing against his chest in storming waves. "No you are not. Who did this?"
She sniffed and the corner of her lips rose a bit. "Mostly it was the piglets—"
The four boys tumbled from the front door, elbowing one another and shouting.
"Piglets?" Francis squealed. He fought to get past Piper's arms.
"Yes, they got loose this morning." She craned her neck to look at them. "You four should go and check and make sure they are still secured. Then you might help the gardener make repairs to the garden."
"May we, papa?" George asked with far greater solemnity than his bouncing suggested.
Darcy slid off his horse waved them on. "Go ahead, all of you."
Bennet nodded and bit his tongue while they hurried away.  Lizzy shivered in his arms. He pulled back, placed his hands over hers and gently pulled the coat back. "The piglets did not do this." And he would kill the man who did.
"No, sir."
"Wickham?" His hands tightened around hers.
She closed her eyes and nodded. Her chin quivered just enough to break his heart. He wrapped the coat around her and pulled her to his chest. He caught Piper's eyes over her head.
Piper's eyes narrowed and his jaw tightened. Wickham had crossed the wrong family.
"Perhaps it would be best to go inside." Darcy gestured toward the front door.
Bennet grunted and released Lizzy enough that she could walk. Hill met them at the door. The creases in her brow betrayed her alarm. She bustled Lizzy upstairs.
Bennet stood at the base of the stairs, staring after her. His hands flexed into fists. Piper tapped his shoulder and jerked his head toward the study. Bennet stalked off. Darcy followed.
"I saw him off the estate sir. Followed him halfway to Lambton just to be sure." Piper gripped the back of the wingback chair, cording his arms as he did.
Bennet growled and slammed his fist on his desk. He wanted to blame Darcy, punish him for his friend's actions. Decades of hard won self-control asserted itself. "I had an interview with him this morning. He said he saw you before he came to me."
Bennet sat, Darcy followed. Piper leaned against the edge of the desk.
"He did come to me, I thought he might apologize for—last night." Darcy raked his hair. "He did not. He sought to poison me against… your family. I threw him out and told him never to return."
"I dismissed him as well." Bennet ran his knuckles along his jaw.
"Desperate men." Piper muttered. He crossed his arms over his chest and glanced out the window.
"Did you see—"
"No, I came upon her after she escaped him. He intended to compromise her and force a marriage."
Bennet snorted. "It would serve him right if I did. She'd cut off his bollocks before he got to use 'em ."
"I believe she nearly did." Darcy chuckled. "She is by no means defenseless."
"Good thing too, though she should have slit the bloody bastard's throat." Piper pushed off the desk and paced across the room. "I will finish the task for her, I will."
"If the wound she dealt him festers, it would be greater punishment to let him suffer with it." Darcy muttered. "It is a rare woman who can keep her head under such a circumstance."
"I saw too much whilst at sea to allow my girls—or my wives to remain defenseless in my absence."
Darcy pressed his fist to his lips, but a snicker still escaped.
"You find humor in that?" Bennet half rose, leaning over his desk.
Darcy started and jumped back. "Forgive me. Not at all. I merely pictured you trying to teach Lady Catherine to use a knife."
Bennet huffed and tossed his head. "I would do no such thing."
Darcy's brows rose.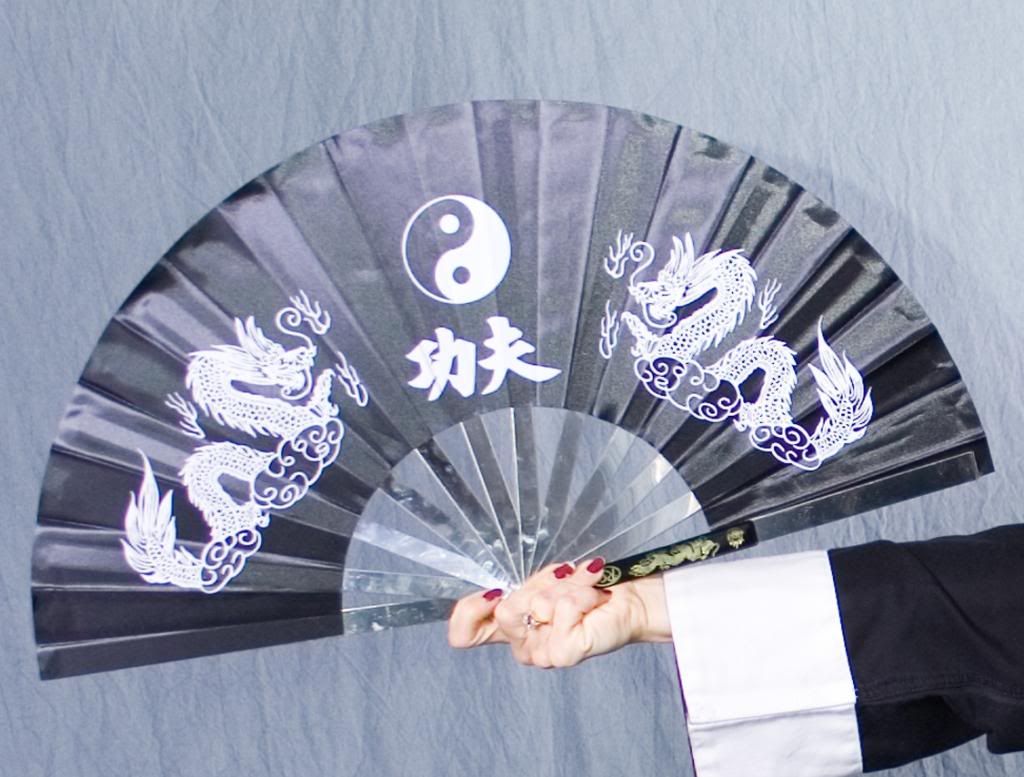 "A knife is not a fitting weapon for her.  In the orient, there are those who use a fan as a weapon. I have already written a friend to procure one for me." Bennet glanced at Piper who grinned menacingly.
"You cannot be serious."
"I rarely joke."
Darcy rubbed his chest. "She is vicious enough with the one she has now. I will not have such a thing in my house."
Bennet  stood up straighter and parked his hands on his hips. "No matter, she will not be living there when I give it to her."
Darcy deflated slightly. "Your daughter insisted your intentions toward her were honorable, though you have taken liberties with Lady Catherine that, strictly speaking, are improper."
"You would call me improper? Given the position I just found you in with my daughter, I should be asking you of your intentions."  Bennet frowned.
Darcy swallowed hard. "I hope to convince you to permit me to court her."
Their eyes locked. Darcy did not back down. Good, but not good enough. "Your marriage was not so felicitous as my own. I want better for my daughter."
"You understand, I am sure, why I married Anne … out of duty, not love. I was  faithful to her in marriage and in friendship, but we were too dissimilar and she far too grateful to me for more than that. But your daughter—"
Bennet waved him off. "I know she is different to other women. You think  you are the first man to come to me and that I have not heard this before?"
Darcy's jaw dropped open.
"At least I can be reassured you do not seek her because you are in need of capital ." Bennet huffed and stomped to the far side of the room. "The only reason I do not cast you out is that you finally showed the good sense to throw Wickham aside. Your friendship with him does not stand witness to your sound judgment."
Darcy hung his head. "I know you are correct. My father wished me to cast him off many times and I refused. It was the one point we forever disagreed upon. I wish he might have lived to see it happen."
At least he could admit to his own errors. That was certainly a point in his favor, especially if he considered a life with Lizzy. "I will grant you loyalty and faithfulness are admirable traits when they are rightly placed—"
"I do not deserve—"
"No, you do not. But you might. I am not currently convinced of the soundness of your judgment and will not consent to give my daughter to a man I do not fully trust. Prove to me you are worthy to entrust her safety to and I will accept you as a son."
Darcy sighed and licked his lips. "I shall show you what you need. May I begin by recommending a locksmith? Wickham gave me one of Miss Elizabeth's keys and her scissors—"
"The blackguard stole them, he did." Piper pounded his fist into his palm. "I knew something were wrong when we couldn't find 'em."
"She said your strongbox key is still missing."
"I have taken precautions, but give me his name and direction, nonetheless."
"What do I need to do to convince you I am worthy to trust?"
"I will consider it and let you know." Bennet sighed. His heart pinched. Losing Lizzy was too much to consider. But perhaps it would be bearable, if he were not alone.
---
PS: If anyone is curious, yes, that is MY fighting fan that I learned to use in earning one of my black belts. LOL